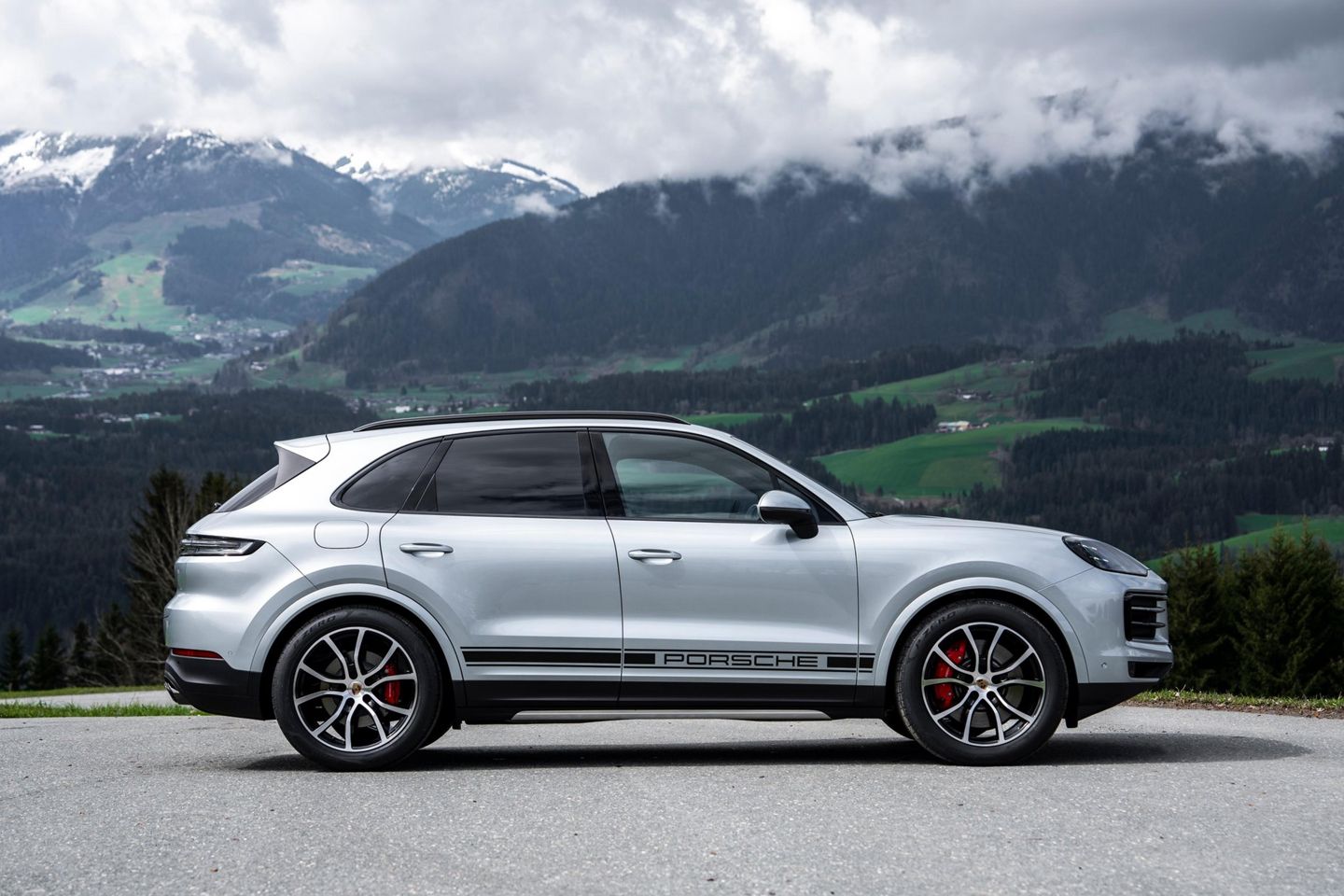 Remember when cars would be in production and, in many ways, left mostly untouched for years? The obvious examples are the original Beetle, Range Rover and Mini. These days, the winds of automotive change are less of a gentle breeze and more storm force, to the point where it can be hard to keep up. Just the other day I realised the Audi RS3 had disappeared from the UK configurator. (If that's news to you, I was told this is a temporary hiatus.) And the other week, we did a twin test involving the Aston Martin DBX707 and the Porsche Cayenne Turbo GT. Then, literally a few days after that was published, the V8-powered Turbo GT was canned in Europe as part of the Porsche Cayenne facelift.
Now, I wasn't that saddened by that final snippet of news if I'm honest. The Turbo GT might have the ability to compress the 12-and-a-bit miles of Nürburgring into 7:38.925, but compared with the DBX707, it didn't really work that well on the roads of South Wales. In another twist, last week I found myself back behind the wheel of a V8-powered Cayenne in some other mountains. Bigger mountains this time, because Porsche launched its revised vision of the Cayenne in the Austrian Alps, and I spent most of that time behind the wheel of the new Cayenne S.
But hang on, the Cayenne S is a V6, right? Wrong. Among the changes to the range is something highly unusual in today's fast-changing world: the V6 engine in the outgoing Cayenne S has been replaced not with a highly boosted, eco-friendly four-cylinder hybrid (AMG's current philosophy) but by a V8. Yes, you did read that right. Two more cylinders, not two fewer. And this got me thinking. Is the loss of the Turbo GT really that big a deal?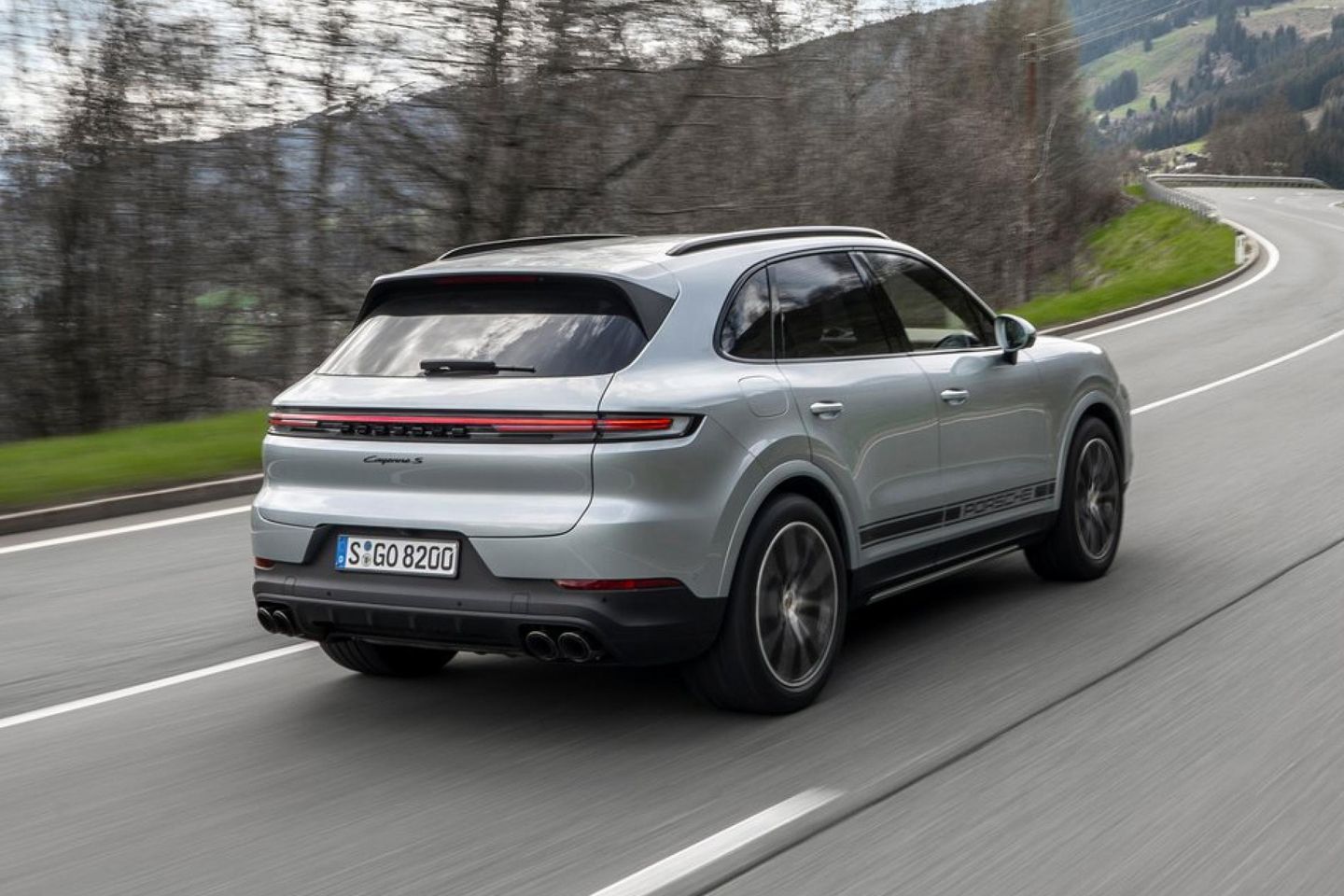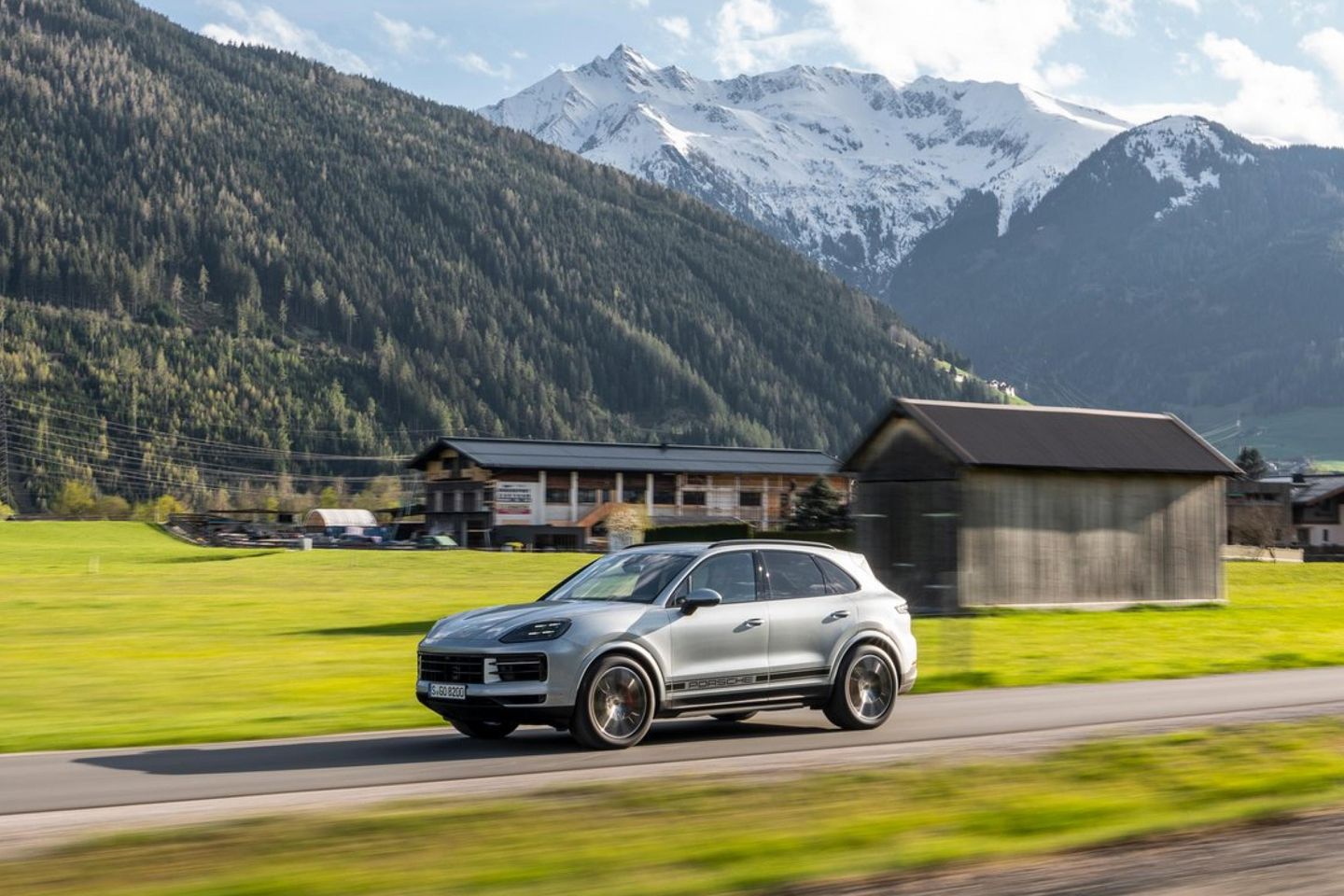 After all, how much performance do you really need from your performance SUV? This latest Cayenne V8 S has 474hp and 443lb ft of torque. Sure, it weighs 2,160kg – which is a bit on the prosperous side, to say the least – but with those figures emanating from its new, mighty eight-cylinder engine room, the Cayenne S can thunder its way to 62mph in 4.7 seconds. That's some way behind the Turbo GT, true, but I'll say again: how much performance do you really need in an SUV?
The V8 is the same basic unit that Porsche has used before, but with a few updates. It now comes with a single-scroll turbocharger instead of a twin-scroll compressor, which produces higher exhaust-gas temperatures that reduce fuel consumption, as does its higher 350 bar fuel rail pressure. It has new electronically controlled wastegates, too, which increase the engine's responsiveness, plus it has is two-stage variable valve lift for the first time.
That's the headline news, although there are, of course, further changes to the Cayenne range. The Cayenne S still comes with steel springs as standard, but it has PASM as standard with two-valve dampers. Using two valves instead of one means the car can alter compression and rebound rates separately, and Porsche claims this upgrade 'goes a long way to resolving the conflict between the goals of comfort for the passengers and optimal wheel suspension without compromising driving safety'. In other words, the new Cayenne is more comfortable and handles better, which is win-win. And Porsche's engineers have been able to imbue the Cayenne with greater separation between its three suspension modes, distinguishing the character of each more clearly. As before, you can add air springs (all the cars we tried had this option fitted), which now use a two-chamber airbag. This is also claimed to add to the Cayenne's dynamic bandwidth.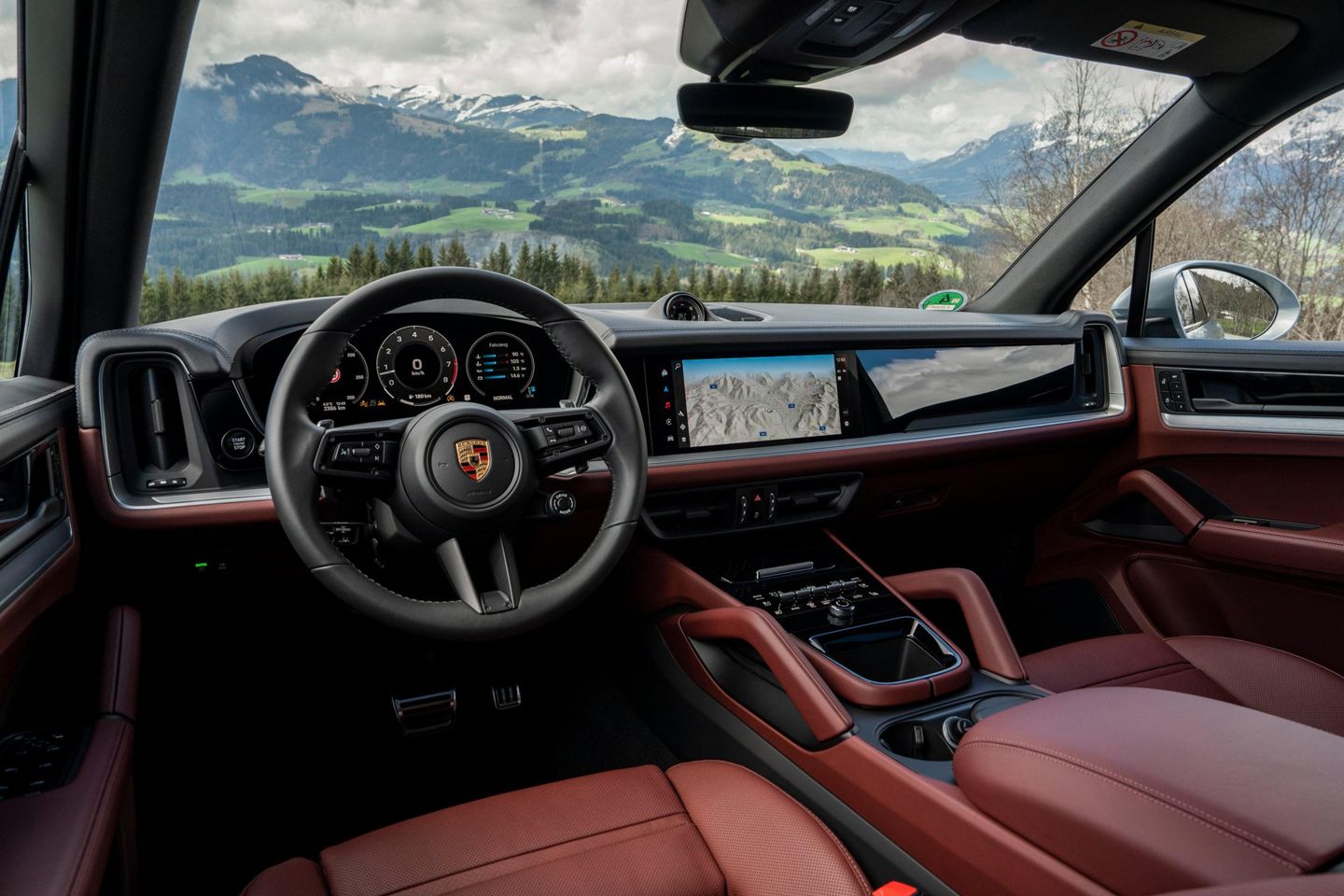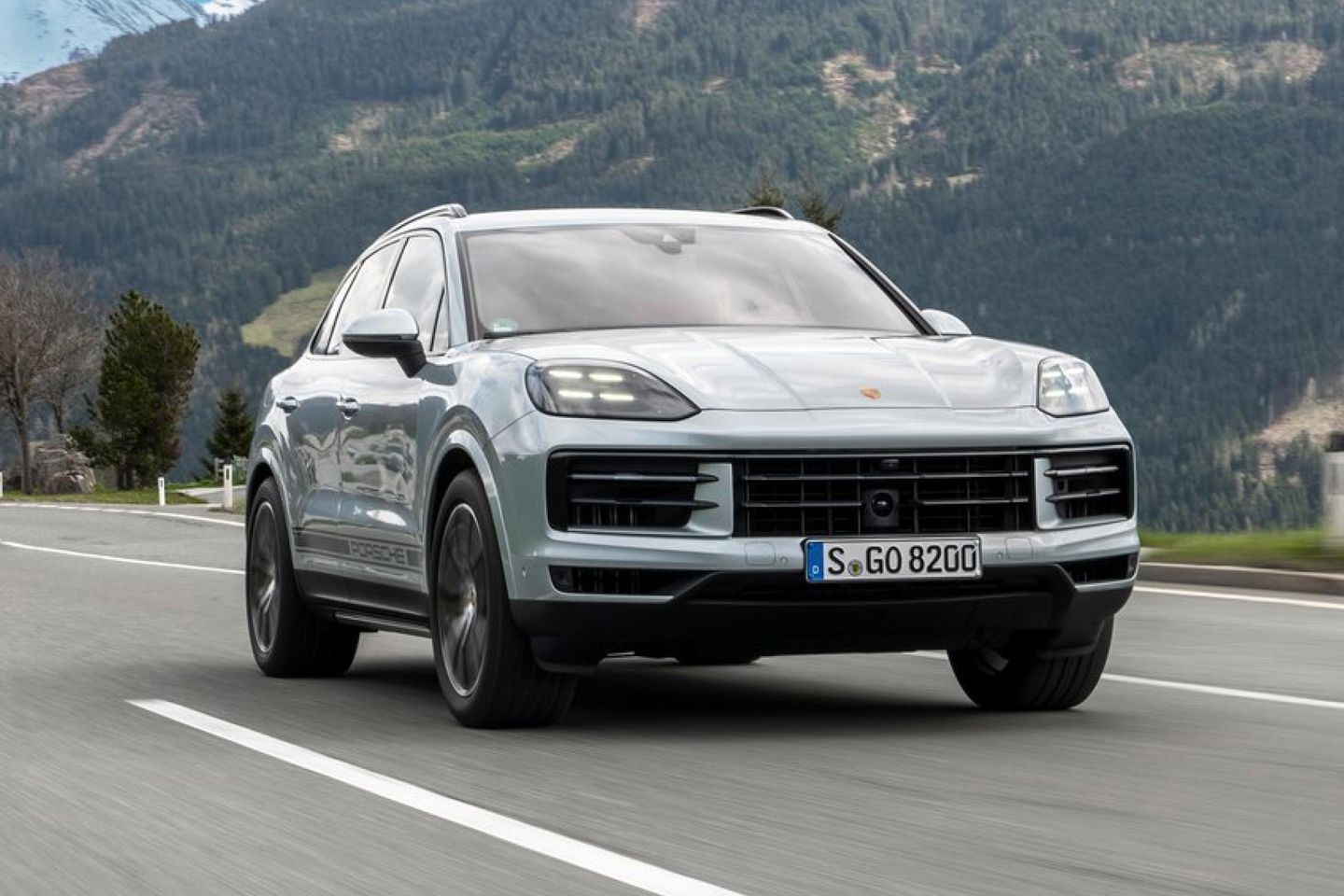 There are more changes, but we told you in detail about those when we originally reported on the Cayenne facelift. Suffice it to say it has some fairly low-key tweaks to the styling, front and rear, and a new interior that blends the old Cayenne's dashboard with a Taycan-style, 12.4-inch, un-cowled instrument binnacle. The gear selector has migrated from the centre console to a position next to the infotainment screen, and, if you're so inclined, there's a 10.9-inch passenger screen on the option list. The driver cannot see that, just in case you're wondering. It can be viewed only from straight on so passengers can use it to stream the usual variety of online media content to while away the time, instead of playing more traditional games, such as 'I spy a snow-capped mountain'. Is a passenger screen that useful? Rather than logging onto yet another device, surely most people would rather watch YouTube or Netflix content on their iPad? Then again, as someone who's never watched an iPad in a car, maybe I'm not the right person to comment on that side of things.  
I will comment on the centre console, though. Some of my journalist colleagues complained of the sun reflecting off its high-gloss black surface and distracting them, but this wasn't something that troubled me. It's the touch-sensitive buttons, which force you to take your eyes off the road to use them, that I found distracting. But on the plus side, there is a row of physical buttons to change the basics, such as interior temperature and the stereo's volume. There's a feature that I really liked, too. It's a cooled wireless charging pad, so for the first time ever, my phone charged up wirelessly in a car without overheating. That's progress, as are the Cayenne's new LED headlights. Regular Matrix LED headlights are now standard, but there are optional units that are jolly swish.
They do the usual shadowing of cars, but they react quicker and have 32,000 pixels per side that aren't just brighter (projecting up to 600 metres) but react faster when blocking off oncoming vehicles – so brighter and hopefully less annoying for other road users. They can do new tricks, too, such as carpet the road just in front with light to help you see what's coming more easily and shift that light carpet to the lane you're about to move across to. They can also illuminate roadworks more clearly and even highlight pedestrians on dark country lanes by a gently flashing the pixels that are tracking them. Point is, of all the new technologies on cars, Matrix lights are actually useful, and after seeing a video of how these ones work I was dead impressed. I must caveat my enthusiasm by saying I never drove the Cayenne in the dark, so can't tell you if any of this impressive-sounding stuff works in practice, though.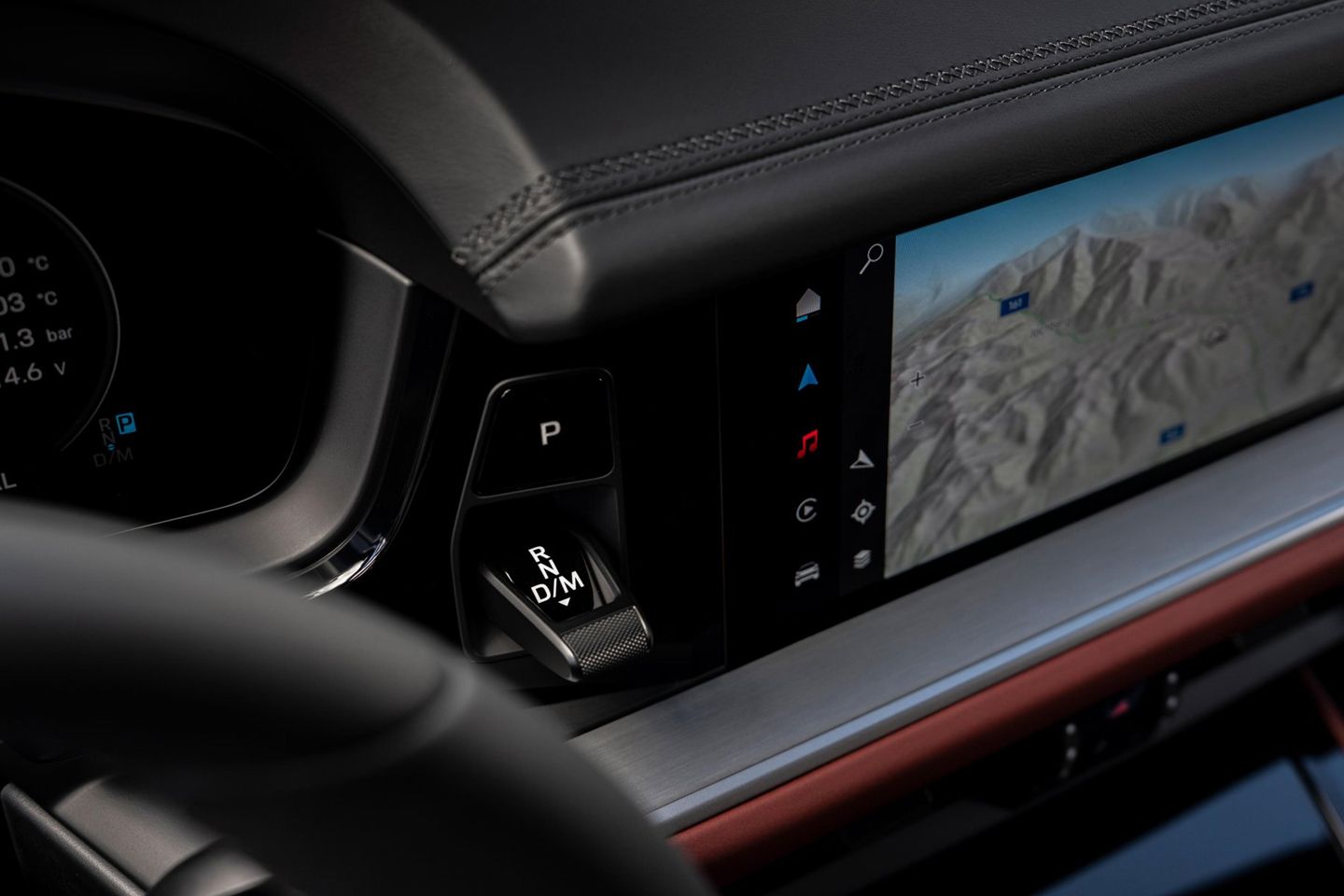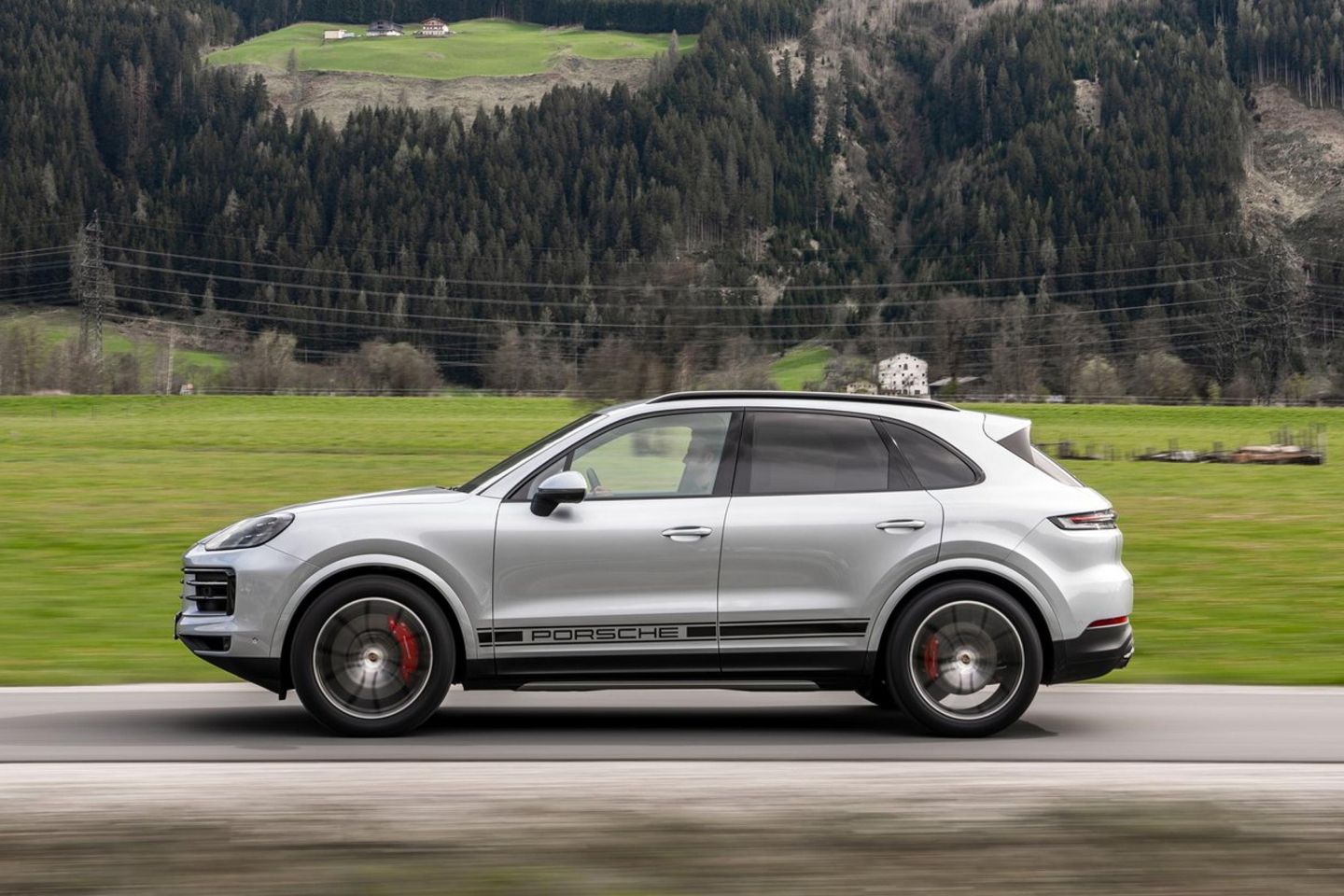 Nope, I drove the Cayenne only in daylight and, sadly, on generally congested roads with not enough good twists and turns to really showcase whatever dynamic improvements might've been made. Shame that. The Cayenne Turbo GT's overly aggressive set-up aside, the outgoing Cayenne was a good steer, and with all this talk of added bandwidth and extra sporting sparkle, it would've been nice to test that bit in practice as well. As it happened, I came away thinking it was very much the same as the previous car. And for the record, that's a good thing.
The Cayenne's steering took me a moment to acclimatise to. I've been spending a lot of time in a new fixture of the PH Fleet, you see – a Defender 110 (more on that to come). The Cayenne's steering, as you might imagine, is much quicker than the Defender's, thanks in part to the speed of its rack as well as its much smaller diameter, much-sportier-feeling steering wheel. Once dialled into its quick-wittedness, mind, it really flows well. The Cayenne has such precision from the first degree of turn, and when you factor in supremely well-optimised weighting, the huge mass and height of the vehicle you're controlling recedes, replaced by a confidence that comes with the feeling of being fully dialled into a car.
That sensation is only increased by its consummate body control. Where the Turbo GT would feel ill at ease until you switched the suspension to its firmest setting – at which point it just wasn't comfortable – the Cayenne S is largely fine left in its softest setting. It deals with vertical movements over near enough any surface very ably, and with little evidence of the near-constant lateral disturbances that infuriated me in the GT. It's so good that there really wasn't much call for rooting through the suspension settings (at least not at our traffic-tempered pace) but I cycled through them anyway – just to feel like I was doing my job. There is a difference when you do. Sport does keep an even tighter rein on vertical movements, should you need it, but if the jump between that and Comfort really is so much bigger than it used to be in the old car, I can't say it struck me as profound.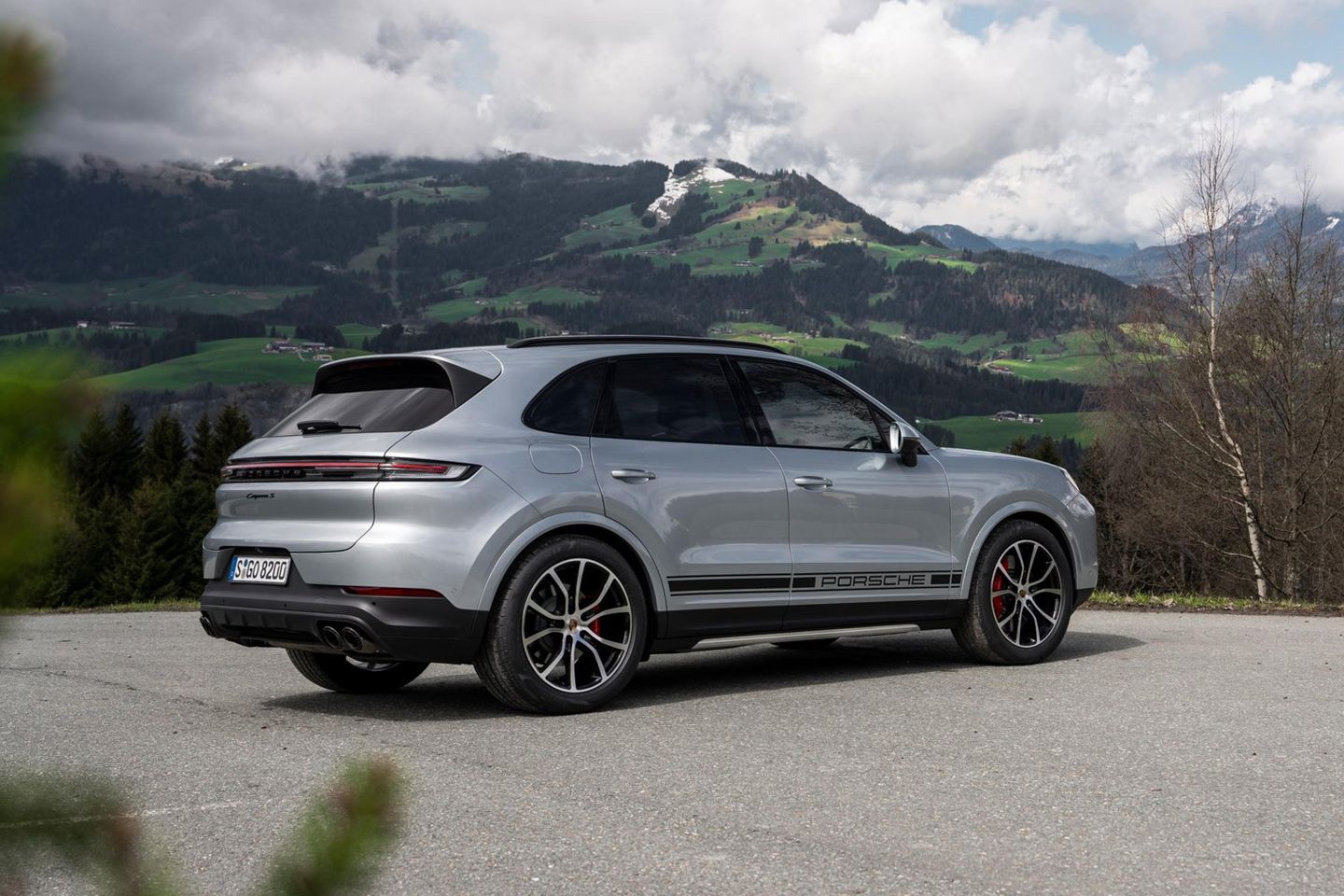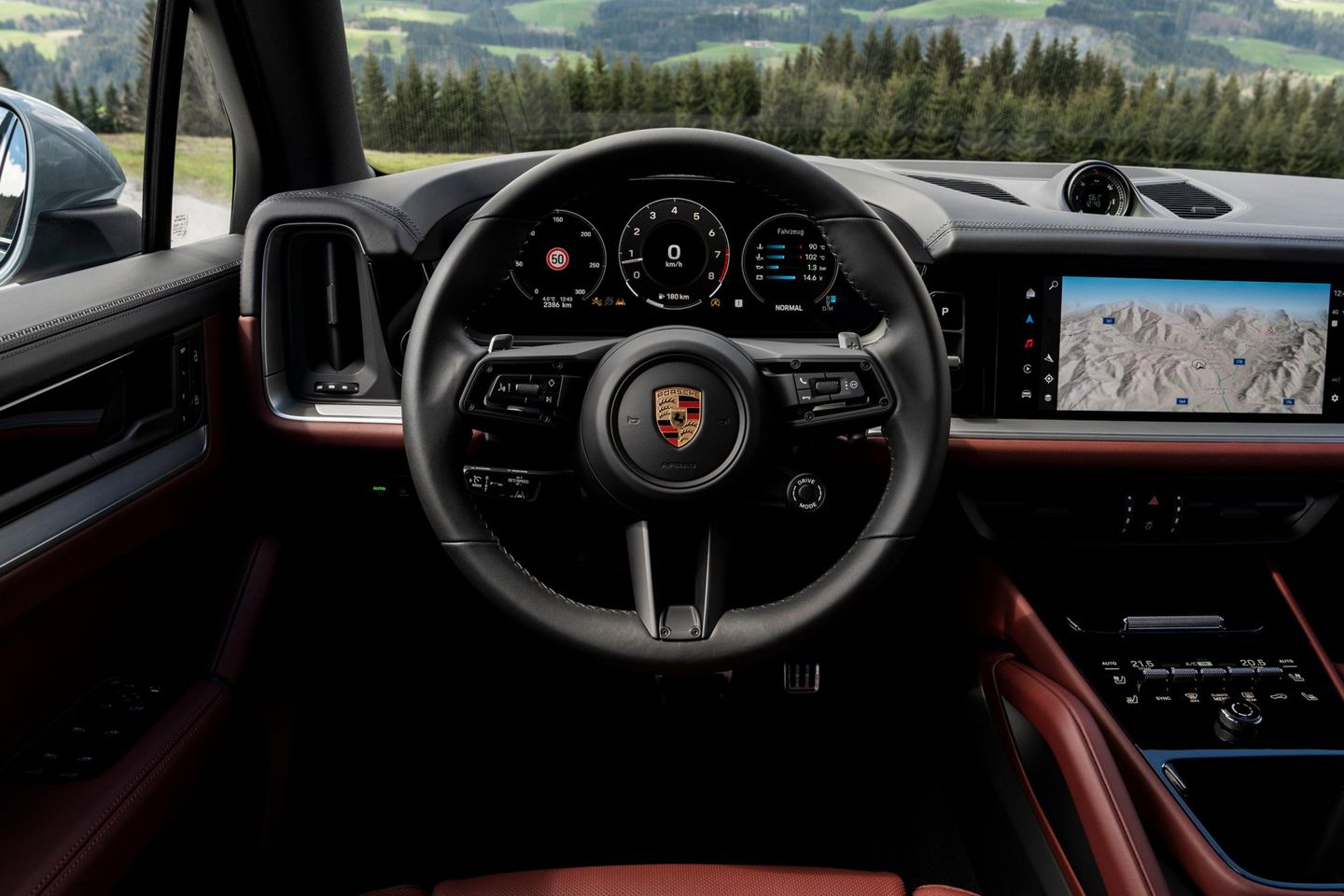 In fact, Sport mode is so worthy as the jack-of-all-trades setting that I forgot to swap back to Comfort for half an hour of town and A-road driving. Nothing about the ride quality during that time made me think to check to be honest – it's perfectly appropriate. Sport Plus is firm, no doubt about that, but Sport is relaxed enough to still let you appreciate the experience, while Comfort is downright plush over everything. You get a good primary ride, with no evidence of crashing over jagged stuff, and no fidget that would indicate issues with the secondary ride, either. Just to remind you, I am talking about a car with air suspension here. If you order a steel-sprung car and find it's a whole different kettle of fish, don't blame me.   
Even without the chance to properly get to grips with the car's cornering potential, there were occasional indications that a significant amount of torque is finding its way rearward under power – even if those occasions mostly involved a boot full of throttle out of junctions. But that brings me on to the engine at least, which is good, because it's a cracker. This is not one of those lazy, US-style V8s. It's also not one for too much exhibitionism, either, other than some muted, off-throttle exhaust discharges in Sport Plus. The rest of the time it sounds fabulous, with a hard-edged, highly-tuned tone when you're on it, yet without being overbearing when you're not.
Is it fast enough? Of course it is. It's magnificently quick, and if you find zero-to-sixty-odd in 4.7 seconds slow, you need to get a grip of yourself. That's plenty quick enough to mash you into the seatback, but more importantly, the updated engine is very tractable. Those eight, lovely cylinders never leave you without shove, but really start marshalling the stuff properly from about 2,500rpm. Yet it's the power at the top end that really puts the 'S' for sport in Cayenne S. That's when the V8 is charging hardest and is most ravenous for revs, right up until the bap-bap of the limiter says that's all, folks. Even then you have only to it wait a fraction of a second for the eight-speed Tiptronic S auto to change gear and off it goes again. Manual shifts are just as well executed using the tactile aluminium paddles.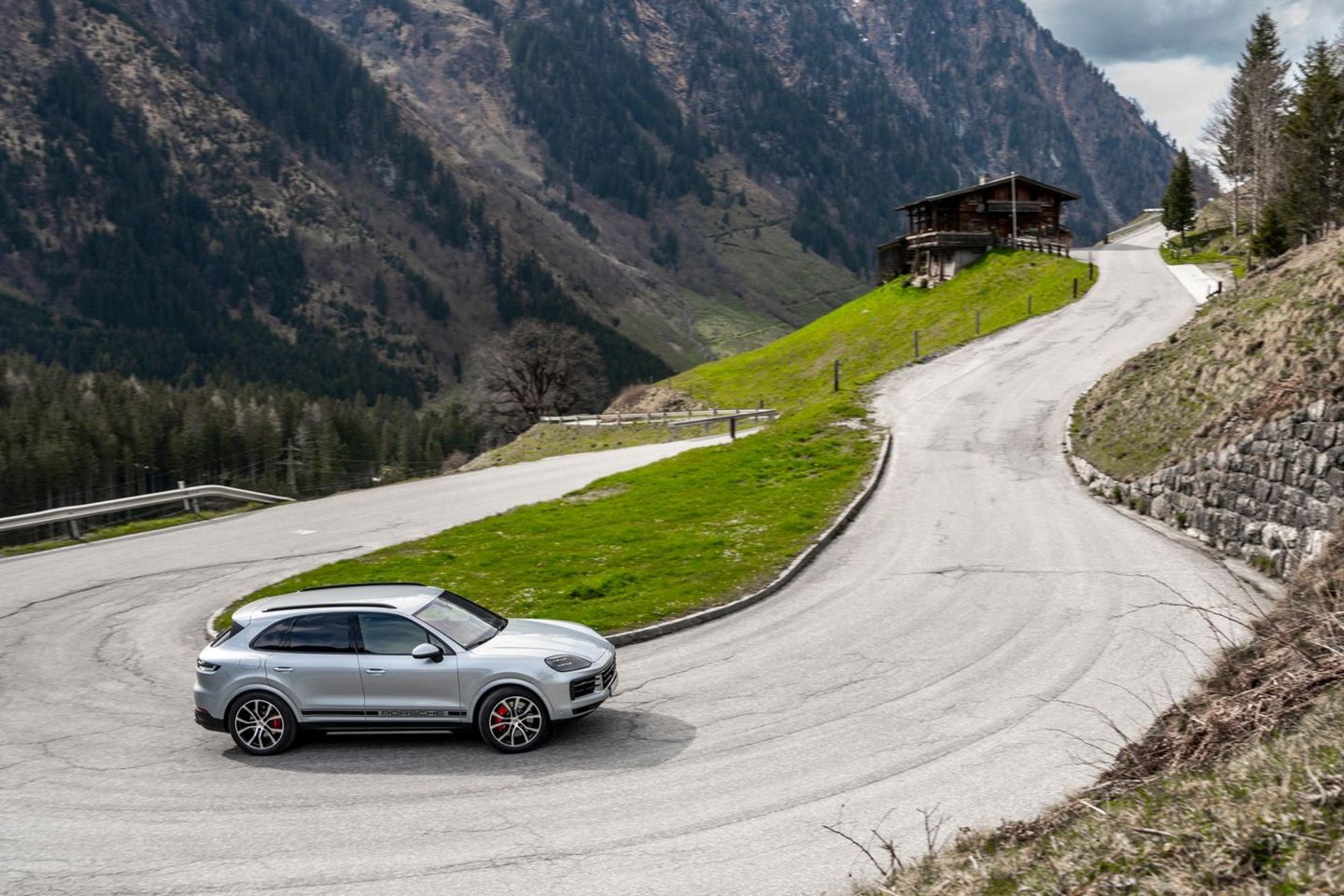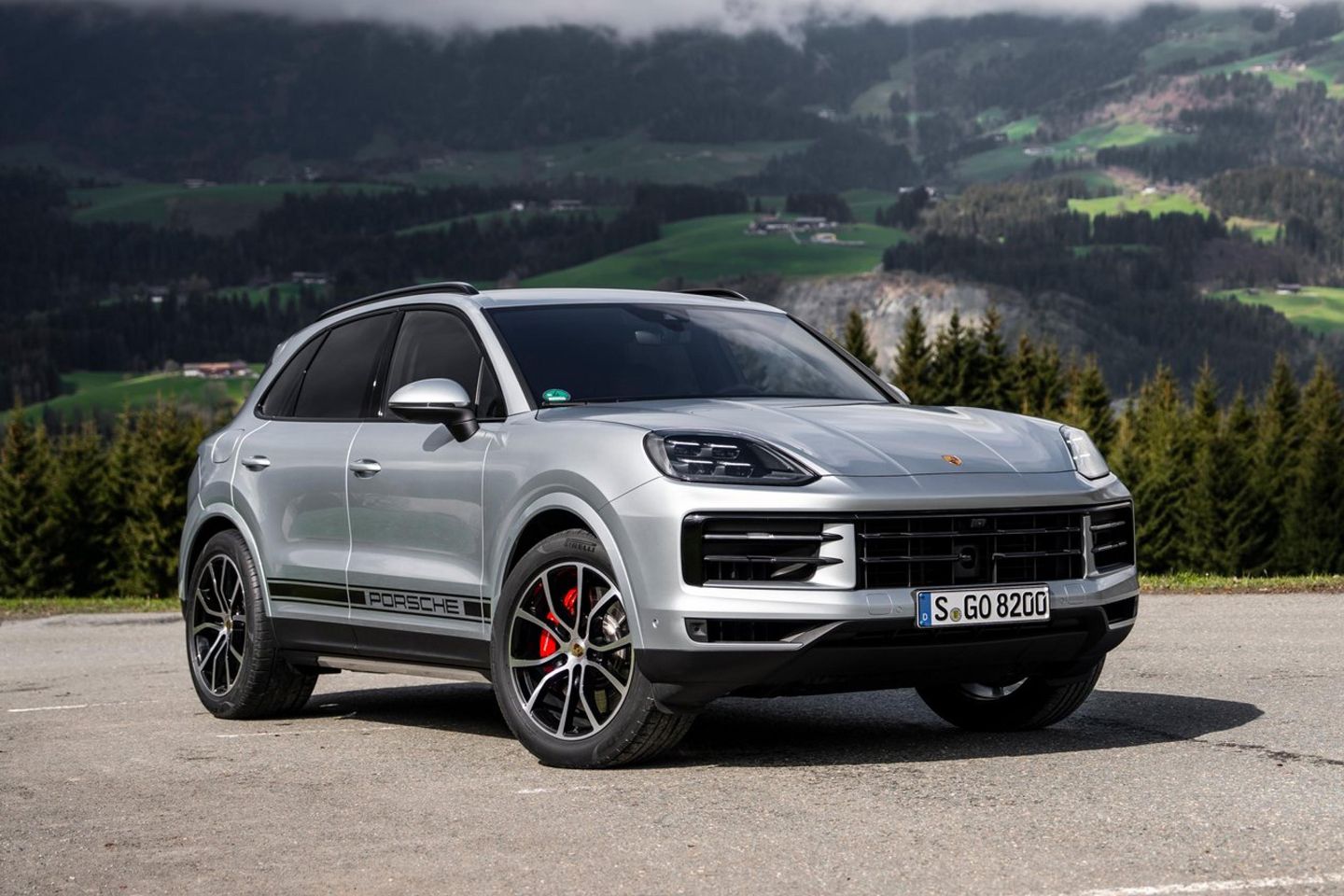 Other highlights include the braking, something that Porsche rarely messes up. The firm pedal and herculean clamping action of pad on iron discs is exactly what you need for a stress-free life slowing two tonnes in a hurry. Incidentally, I drove the Cayenne Hybrid with ceramic discs, and it turns that is one of those rare occasions when Porsche has messed up the brakes. I found that car's anchors grabby and annoying. Later, I tried another Hybrid with the iron discs. I found that better, but still not a patch on the S's uncorrupted stoppers. I wasn't that impressed with the Hybrid in other ways, either. It doesn't ride as well, the V6 sometimes takes too long to wake up and, when it does, it's a bit buzzy.
So my advice, you'll be delighted to hear, is to take the S and its V8 before Porsche realises it's made a mistake in offering it. Whatever you think about fast SUVs, this one really is a very accomplished car. Okay, I didn't get to stretch it properly, and that's something to look forward to we get to try one in the UK – but if nothing else, my drive closely resembled what people actually get up to in their day-to-day. And as such, I can report that the new Cayenne is fast, flowing, controlled and comfortable. Not unsurprisingly, it's a brilliantly engineered thing, right down to the lack of wind and road noise on motorways, which makes it refined, too. I'm not a fan of every aspect of its new interior, but it is unquestionably well constructed and finished beautifully. I even chanced upon Kayleigh, by Marillion, being played by one of Austria's many rock-loving radio stations. That wasn't just a welcome blast from the past, it proved that the BOSE stereo is punchy, too.
So this is a classic case of less is more for me. Having been underwhelmed by the Turbo GT – a car that proves even Porsche engineers have their off days when asked to chase numbers – the Cayenne S is back to proving the rule. And that rule is Porsche really does know a thing or two about engineering cars, SUV or otherwise. If you want a fast SUV – and I am saying this to anyone in that market right now, no matter how sky-high your budget might be – this is quite possibly as good as it gets.
Specification | 2023 Porsche Cayenne S 
Engine: 3,996cc, V8, twin-turbo
Transmission: 8-speed auto, four-wheel drive
Power (hp): 474 @ 6,000rpm
Torque (lb ft): 443 @ 2,000-5,000rpm
0-62mph: 4.7 seconds
Top speed: 170mph
Weight: 2,160kg (DIN)
MPG: 22.8 
CO2: 282g/km
Price: £80,000